Photographing the 4th Dimension - Time
Better Photography Through Inspiration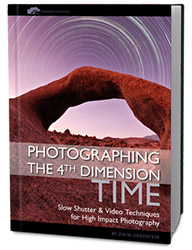 PHOTOGRAPHING THE 4TH DIMENSION – TIME
Slow Shutter & Video Techniques for High Impact Photography
Photographing the 4th Dimension – Time is a practical guide to 7 slow shutter and video techniques for photographers of all skill levels. Step-by-step technique overviews, tips, gear info, informative videos and inspirational resources will help you improve your photography both technically and creatively. Topics that will put you on the fast track to creating high impact images include long exposures, light painting, star trails, cinemagraphs, time-lapse photography and more.
Get inspired and learn great photography techniques that will have you eagerly waiting to head out with your camera on your next photo shoot. To reinforce the highlighted techniques on your next photo shoot, Photographing the 4th Dimension – Time also includes a Field Checklist enabling you to reference the great information within the eBook on the go.
Inspired Exposure Photography eBooks | Better Photography Through Inspiration
Affiliates
Like this product?
Spread the word about it and earn 35.00% of the purchase price on sales you refer.
Join our affiliate program